News
Latest updates from the campaign:
Wednesday, November 1, 2017 10:08 PM
Michael Magill Promoted to Captain
Congratulations to Michael Magill, safely returned from Afghanistan and promoted to Captain today.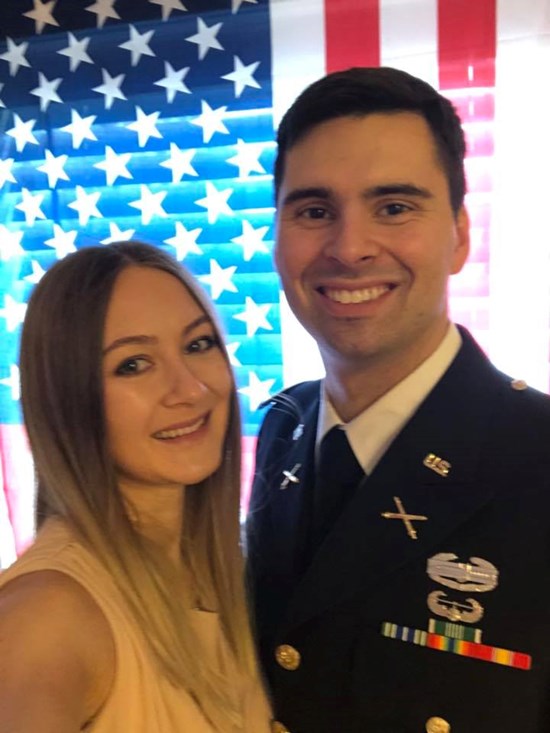 ---
Sunday, October 29, 2017 12:00 AM
---
Sunday, October 29, 2017 12:00 AM
---
Monday, October 23, 2017 12:00 AM
---
Thursday, October 19, 2017 1:05 PM
Councilman Marc Kotura Clarifies the Liberty Ford Issue
This letter was published in the Solon Times on October 19:
To the Editor:

On the campaign stump Councilman Edward Kraus has said repeatedly he was the only member of council to vote to save Liberty Ford. That is quite a stretch from what really happened.

At the city council meeting of July 16, 2006 Planning Director Robert Frankland reported that negotiations between the Liberty Ford and the city had broken off and there would be no need to pass the pending rezoning ordinance for the dealership's new off-site service garage. Based on that information and recommendation council voted not to send the rezoning proposal to the ballot. Curiously Mr. Kraus still voted yes but made no comment nor lobbied in support of the rezoning or Liberty Ford.

Members of council then learned it was the city that had been too stringent in its dealings with Liberty Ford. At its August 1, 2016 meeting after a lengthy question and discussion period I moved and Councilman Robert Pelunis seconded to reconsider Ordinance 2016-122 (the rezoning proposal). It passed unanimously. Again, the minutes do not reflect any comment by Mr. Kraus on behalf of Liberty Ford. He only asked if Liberty Ford would reconsider if a time extension was given.

Then Councilman Doug Magill and I met separately with Liberty Ford's Michael Herrick to try to resolve any conflict. In order to get an approved ordinance to the Board of Elections by August 10, 2016 a special meeting had to be quickly called.

Mr. Magill asked Vice-Mayor William Russo to call a special meeting and he refused. I then researched the charter and learned that a majority of council could call for a special meeting. The administration then lobbied members of council not to call a special meeting. Unfortunately we did not get enough consenting members to make that request to the Clerk of Council including Mr. Kraus.

Again, the record needs to be set straight on the Liberty Ford issue. All of this is in the council minutes of July 16 and August 1, 2016 and can be viewed online on the city's website or at the Clerk's office.

Sincerely,

Marc Kotora
Councilman Ward 4
440-701-3086
---
Saturday, September 2, 2017 10:42 AM
Endorsement From the Solon Times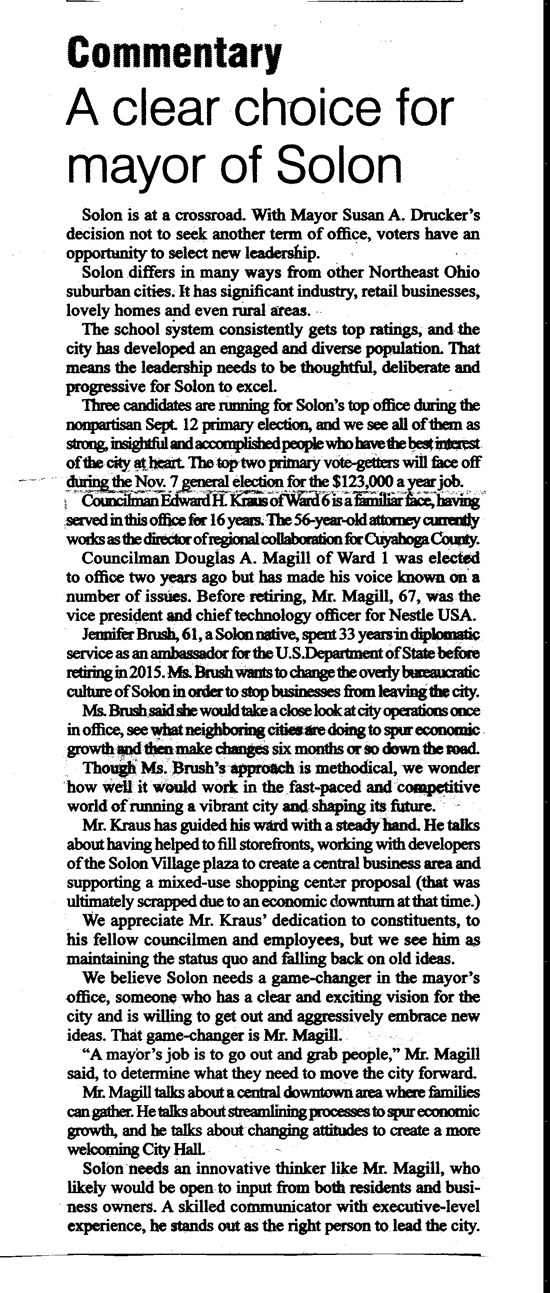 ---
Thursday, August 31, 2017 12:00 PM
---
Thursday, August 24, 2017 12:00 AM
---
Sunday, July 2, 2017 2:38 PM
Joy in Voting
I have been knocking on doors across the city. Recently an elderly gentleman came outside of his home to speak with me. He was a slight man, but with a happy demeanor. I didn't recognize the accent, but he wanted to know all about Solon's government, the mayor's job, and the its relationship to city council. After a discussion that lasted 10 to 15 minutes he told me that he had just received his U.S. citizenship the week before. I told him congratulations, and how wonderful it was to welcome him to the county. He beamed, said it was a blessing, and, touching me on the forearm told me that I would be the first person he ever voted for. It was humbling to know how much hope, belief and faith went into that statement. That is who we run for office for, and who we need to remember when we serve. In other countries you belong to a territory. Here, you belong to an idea,
---
Monday, June 5, 2017 11:52 PM
Solon Speaks Video Interview
---
Monday, May 8, 2017 5:00 PM
Teaching Entrepreneurship at University School
On Monday, May 8 I was invited to speak to two classes (Sophomore through Senior) on Entrepreneurship. As the former founder and owner of two small businesses as well as a former senior executive with a large corporation it was a great opportunity to share my experience, mistakes and hard-won wisdom. The students were interested, engaged and funny. Thanks to Greg Malkin, also a former entrepreneur, who runs the Young Entrepreneur Institute there.
---
Wednesday, May 3, 2017 11:00 AM
I had a very informative and interesting meeting with Ted Yates, Mayor of Twinsburg. He stressed that there are many common issues between Solon and Twinsburg, particularly in regard to revitalizing the downtown area and in creating a greater sense of community.
He knows of people and businesses that have moved to Twinsburg both because of Cuyahoga County taxes and the difficulty of doing business in Solon.
He said he would support me and be glad to work with me on common issues in the future. He expressed some disappointment that Solon has not been as involved with other communities in the last few years.
---
Wednesday, April 5, 2017 5:28 PM
Meeting With Glenwillow Mayor Mark Cegelka
Had a great conversation with Mark Cegelka, the Mayor of Glenwillow in his office. We discussed a nomber issues of common concern and it was clear that he was interested in greater cooperation with Solon.
We had provided fire services for his city at one time and the mayor abruptly pulled out of the agreement, no clear explanation provided. It is possible that there may be opportunities for joint services in the future, as well as for cooperation on economic issues.
---
Tuesday, April 4, 2017 3:14 PM
Meeting With Rocky River Mayor Pam Bobst
Had a wonderful meeting with Pam Bobst, Mayor of Rocky River. She was friendly, attentive and thoughtful even though I spent almost two hours with her.
She is puzzled that Solon has withdrawn from most meetings and forums with other mayors.
Pam had great insights on the city as community and recommended a book, Bowling Alone, which talks about city management and developing citizen engagement. Key concepts: Social Infrastructure and civic engagement as key indicators of a thriving community. People want to have pride in their city and need to feel connected to their community. They also need gathering spaces and places to stroll.
We discussed the need for regular meetings with civic leaders – Rotary, churches, Chamber of Commerce, community groups - to talk about challenges, opportunities, vision.
She suggested I look into Block Grants from the Community Economic Development Fund to kick start economic development in a certain area.